Everything you need to know about roof top tents.
Forget everything you know about camping, roof top tents are here to stay. Soak in some general knowledge about this trendsetter must-try experience.
What is a roof top tent?
The roof top tent as most know it has become more and more popular in the past 20 years. The 4x4 and offroad community have been its greatest influencers, proving that you can travel pretty much anywhere with a roof top tent.
A roof top tent is in the most common form made up of two hard shells made out of fiberglass and steel supports that open on a hinge or some other lifting mechanism with a waterproof tent material connected to both top and bottom half to keep you dry and warm from the outside forces of nature.
How many can sleep in a roof top tent?
Although each model varies in size and shape most variants are made to comfortably accommodate two persons, the roof top tents that we at Northern Lights Car Rental offer are spacious enough for 2 adults and a child according to the manufacturer's specifications.
What do I need to have with me when staying in a roof top tent? 
When planning your adventure it is always good to know what you will be doing, where you will be going and what the conditions will be in those locations in order to know what you will be needing during your trip.
Number 1, 2 and 3 you will need to have a smile on your face because only the best memories start with a smile and a positive attitude.
The roof top tent is well insulated so having a good night's sleep in bad weather conditions is not a worry you need to have. 

-What will the weather be like? Knowing this beforehand will help you decide which clothes you will need during your stay.

-How long are you staying? Knowing how long you will be staying in each place will help you to decide what you need.
  …Will you be going to sleep as soon as you arrive at your camping area late in the evening and heading out again as soon as you wake up? Or do you plan on staying a bit longer in each location to soak in the surroundings in the warm embrace of nature? In which case some camping chairs and a table will most definitely help with achieving that. Are you planning on eating pre-cooked meals from the store or do you want to make this a true camping trip and cooking your meals where you want, when you want? Then consider getting a Kitchen box with all the utensils you will need to make that possibility a reality.
A deck of cards, music, laughter and good company will always make for a pleasant way to spend your time when camping.
Where can I travel in a roof top tent?
The short answer to this question is "everywhere", but the longer answer is "everywhere as long as it is allowed". Plan your destinations according to both weather and road conditions, just because you see a road (gravel or asphalt) or see a path does not mean that you are allowed to drive on it. Some are privately owned roads, some are simply paths made by someone that was not familiar with Icelandic off-road laws and some roads will take you to areas that are only allowed to cars with extreme off-road capabilities where river crossings and other roadblocks may be present.  A navigation system or a phone with an internet connection and Google maps will help you to know what is what.
-Always stay updated on road conditions before heading out on www.road.is.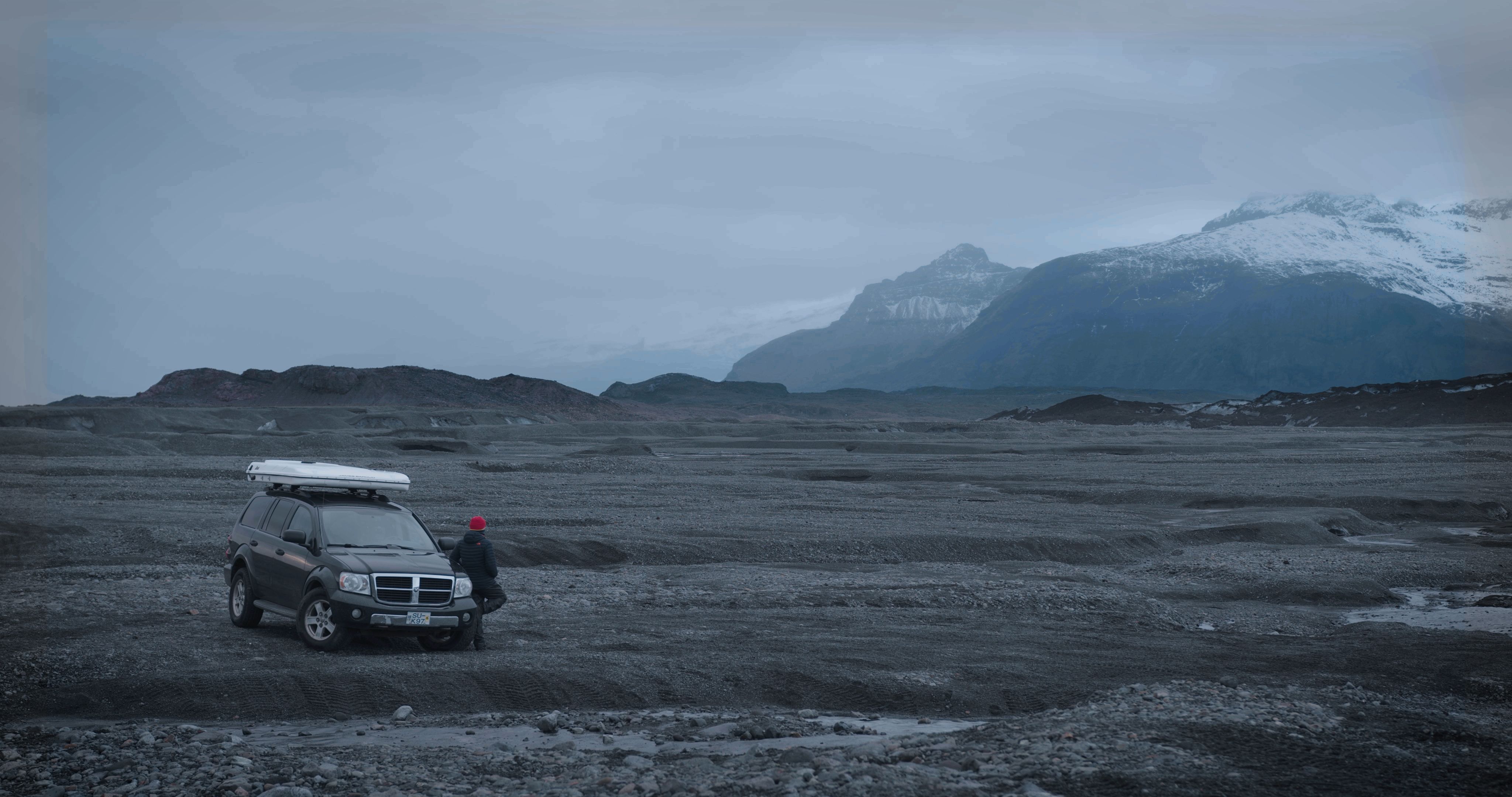 Where can I camp in a roof top tent? 
The short answer to this question is unfortunately not "everywhere", but would be more accurately answered, "in camping areas".  The rules and regulations regarding camping in Iceland's nature are constantly changing and hard to know. Camping outside of one of Iceland's 160 camping grounds is possible but it is hard to know where you are allowed to camp without knowing the local laws and knowing which land is privately owned and which is uncultivated. So your best option would be either to drive to a farm nearby and ask the landowner for permission to stay on their land or to simply stay in a camping area where you have all the facilities you need, be it a bathroom and shower access or a BBQ pit or even a washing machine
In what sort of weather can I stay in a roof top tent?
A good thing to have in mind when traveling around Iceland with a pop-up roof top tent is that the Icelandic weather is known to be very unpredictable and everchanging. Every twist and turn on the road and every valley or fjord can have different weather than where you were only 20 minutes ago.
Roof tents are ideal for these situations, the hard shell of the roof top tent is rigid, strong and very aerodynamic so camping in strong winds is no problem at all. A good solution to have is to park your car into the wind so the wind hits the front of the tent, rather than it hitting the sides of the tent which can cause it to sway slightly from side to side.
Iceland is no stranger to rain and during the summer periods flash rain showers can occur anytime especially if it has been quite warm earlier in the day. This is also nothing to dwell on as the exterior of the roof top tent is waterproof. Just do your best to keep the water and moisture on the outside of the tent, and if it gets wet or humid on the inside then try your very best to let it air out and dry.
How comfortable is the mattress that comes inside the roof top tent? 
Comfortability is undeniably a very important factor when considering your accommodation, whether you are choosing from hotel rooms, hostels, motorhomes or roof top tent. The mattress included, although not very thick is very comfortable and nice to sleep on (I can vouch for that).